Important Elements of Vastu
Vastu is a form of holistic science that has its roots set deep in the ancient Hindu culture. The Vedic science involved in it deals with principles from physics, environment and other disciplines. It is basically the balance between the different elements or energies on the planet. Proper Vastu harmonization will help to bring about this balance. You already read our articles like Why Vastu and some Important Vastu tips. Now we will understand about Vastu elements. These elements we talk about here the 5 elements are body is made up of. It is said that we are born from these 5 elements and we go back to these 5 element when we dies. The ancients Greeks too believed in these elements. It is said that if you can attain balance among these elements then you can have a happy and healthy life.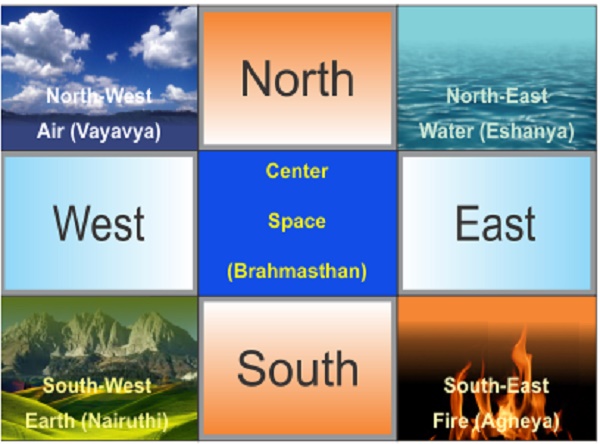 Elements of Vastu
Earth or Bhumi

is the soil that we are born to. It is relate to the South east, north east and the central position. East takes into account the monetary condition of the home. Having the master bed room in these positions will help you to gain monetary welfare. Otherwise it can lead to loss of money.
Water or jaal is related to the south north east and north position. It the element of water so it is best to have some kind of a fountain or swimming pool located in these areas. The colours aquamarine, blue or purple are best for such positions of the house.
Fire or Agni represents the South and South east. Since it is related to heat and light it is best to have the kitchen placed in such areas. Incorporating a chimney in this area will also ensure that you have good vibes in the house in these areas.
Air or vyom represents the northwest. This is the best place to have things like exhaust fans and chimneys. Make sure this area of your house has many windows. Try to keep the windows open as much as possible to encourage the flow of fresh air in these areas.

Space or Akash

represents your center. This is your Bhramhastan. You must make sure that this place is clean and not clutter at all. No heavy objects would be placed in this part of your home. You need to make sure that you keep this area very light and breezy or else you will have health problems in your family.
Each of the different directions are ruled by a God
North is ruled by the God of wealth, Kubera and governed by Mercury.
South is ruled by the God of death, Yama and governed by mars and Pluto.
East is ruled by the LordIndra and governed by the Sun.
West is ruled by the God varuna and governed by Saturn.
Make sure you keep all these areas are well let. Letting in sunlight and air is one of the most important tip of vastu. This heals to have a happy and healthy lifestyle. Following the different vastu rules have helped many families dealing with financial and health related problems, thus becoming very popular all over the world.
Vasavi Builders are constructing 100 percent vastu apartments in electronic city phase 1, Bengaluru. If you are looking for 100 vastu apartments then consult Vasavi builders. You will get apartments within 30 lakhs to 40 lakhs in Bengaluru. All the best…